Financial advisor websites that convert.
Build your business. Expand your reach. Custom financial advisor website designs with personalized care and support for today's busy financial planners and wealth managers.
How We Help You Own The Online World: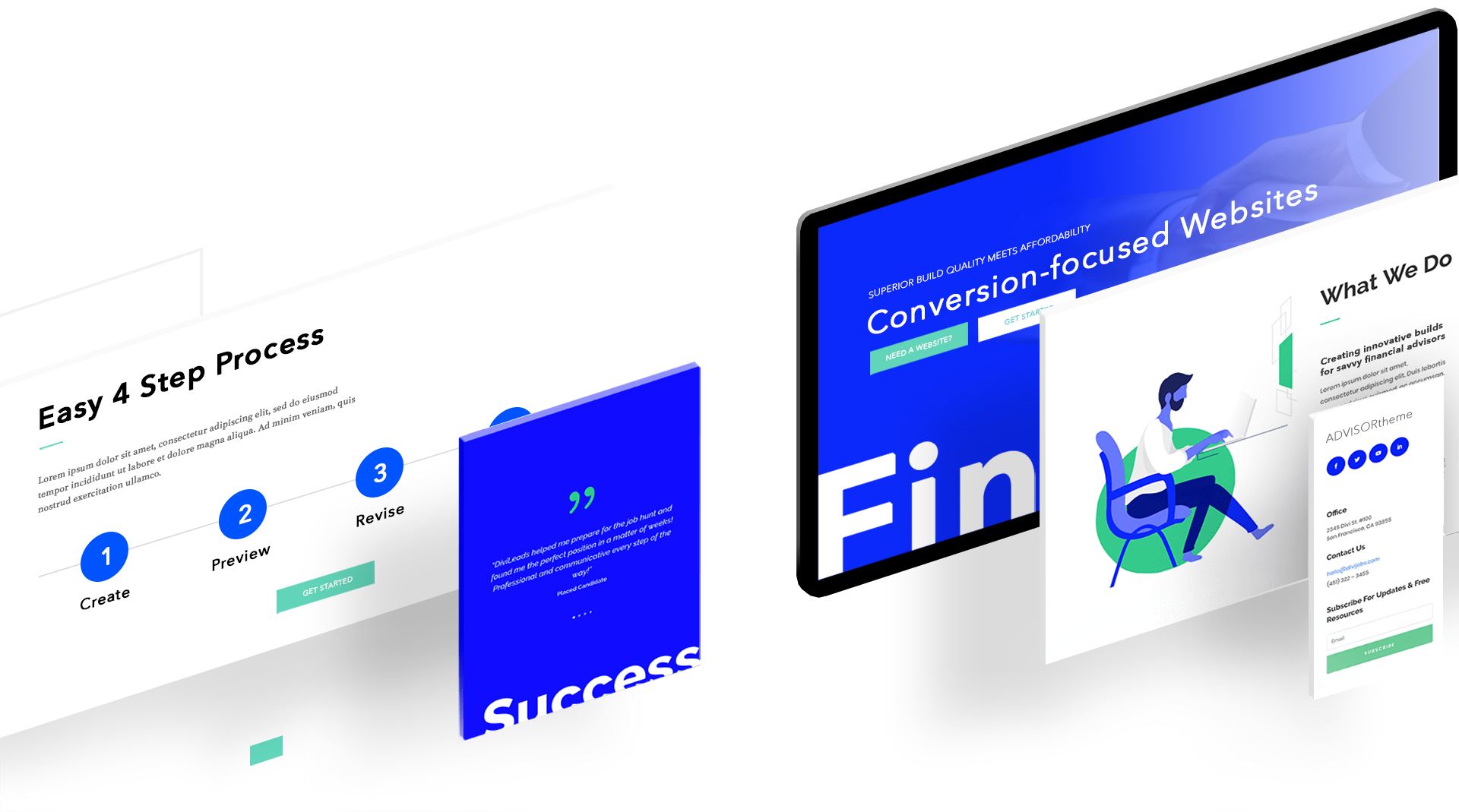 Our Website Build Process
Priorities are set. Specifications are cast. Deliverables are defined. The result is a Requirements Document that acts as the project roadmap.
Layout is created. Testing is performed. Client review is requested. From sitemap to verifiable – the result is a tangible website ready for your feedback.
Revisions are completed. Usability testing is verified. Performance is measured. The result is a checked and re-checked website ready for your final approval.
We take your new website live. Now you can send out a press release, and blast your email list and social following. Get aboard the hype train and toot your own horn!
Robo Advisor Website Design
For Sustainfolio to achieve their growth goals, they needed a website that would expand the company's brand reputation, appeal to millennials, and better reflected their expertise and authority.
Wealth Management Website Redesign
Canal came to us looking for a new, bold and more professional design that would not only establish a more authoritative internet presence but also easily provide useful information to prospective clients.
Financial Advisor Website Redesign
The new, responsive Independent Wealth Management website offers a better overview of the client's extensive financial service offerings and also works to smoothly integrate their content as well as connect visitors to the Fidelity portal.
Is your website outdated or in need of an upgrade?
Our team of website design experts will develop a website that expands your company's brand, smoothly integrates your content, and works fluently on all devices from desktop to mobile.
When it comes to your financial advisor website, we go all the way!
Here's just a few of the ways our website care helps you manage your website…
Would you like help with your finance website?
Whether you specialize in retirement planning, investing, or any other wealth service, our WordPress experts have years of experience delivering powerful websites. We will secure and speed up your site, manage updates, scan for malware and maintain backups for quick recovery.
See what are our clients are saying about us.

"Advisor Designs maintains our 3 WordPress websites. I work with Ben on higher level design jobs and he always responds timely and gets the work done fast. I appreciate knowing our websites are secure and run as they should."

"Ben communicates technical jargon well, and I always get the latest, fancy functionality I want at a fair price. My site runs fast and has never had any security issues. If you're looking for good value, I highly recommend Ben and Advisor Designs."​

"I continue to receive compliments on my website. I really like how Advisor Designs made my brand stand out and organized my content. I engage Ben for website tasks I don't have time for and I'm always pleased with the result."​
Get the Advisor Website You Deserve Today
Discover and choose the financial advisor website onboarding and service plan that fits your needs!